Create a Movie Catalog for Dune Media Players
Movienizer contains all necessary tools to organize your movie collection the way you like it. It can store descriptions of your movies, covers, shots from the movies, information about actors, including biographies and filmographies, location of the disc (if it's a DVD or a Blu Ray), keep track of loaned movies etc. If you prefer to keep your movies as video files - DVD rips, DVD folders, HD rips, Blu Ray folders etc. - on your computer's hard drive or somewhere on your network (shared folders of other computers, special storage devices like NAS, and so on), you can easily add them to Movienizer by scanning your movie folders with the built-in file scanner. In such case links to the corresponding video files will be saved to the database along with the general information about movies. Of course, you can enter or update these links manually, too.
By saving links to video files in your database you will be able to play movies directly from Movienizer, take shots from the movies, and so on. Yet another feature of Movienizer may be quite interesting to everybody who owns a media player like Dune HD Base or Dune BD Prime.
Dune media players offer an easy way to access and play high definition movies on your TV set. You can use Movienizer to enhance your experience with Dune players: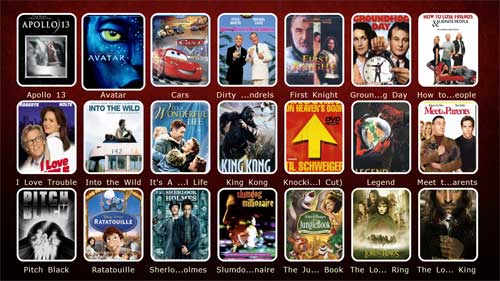 Browse and easily pick out your movies by covers.
Select movies by categories: genres, alphabetically, actors, directors, years etc.
Click a cover to get more detailed information about the movie: descriptions, shots from the movie, list of actors, and so on. Basically you can use any information available in your Movienizer database.
It doesn't matter where your video files are stored. They may scattered over your home network, using a dozen of HDDs and other storage capacities. With Movienizer you can create a movie catalog for all files and browse it conveniently, as if it were a single movie storage.
Create a Dune movie catalog for a part of your movie collection. Again, it doesn't matter where your video files are.
Support for TV series, Movienizer can create an illustrated catalog of episodes automatically. It is also possible to play all episodes with a single click.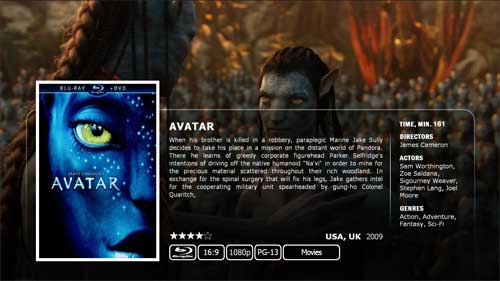 You can build an illustrated movie catalog for Dune players in a few easy steps. Click here to proceed.
Besides Dune HD media players, Movienizer can create illustrated movie catalogs for Popcorn Hour A-400 and WD TV / Google TV. There is also a plugin for Windows Media Center.