Create your own Bing key
Movienizer can find and download additional movie covers, photos, shots, posters, and more. To search on the internet, Movienizer uses powerful search engines like Bing.
In order to enable Bing search in the program, you may need to obtain your own free API key. This article describes the necessary steps.
1. Log in to your Microsoft account in your browser.
You need a Microsoft account (a hotmail.com or live.com email etc.). If you do not have one, you can easily create one (it's free).
2. Register at Azure.
Azure is a service by Microsoft. Click here to open the registration page (you haven't logged in, you will be prompted to do so now).
You will need to enter some basic data (press the "Continue" button after entering):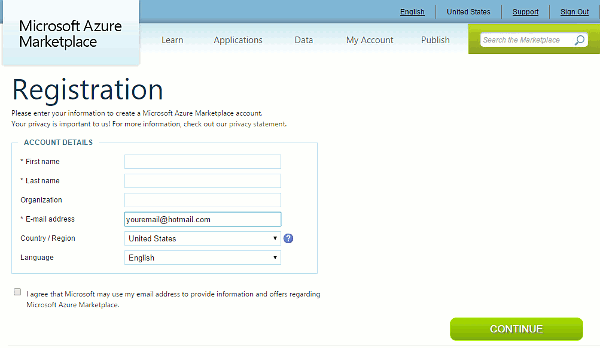 and accept an agreement: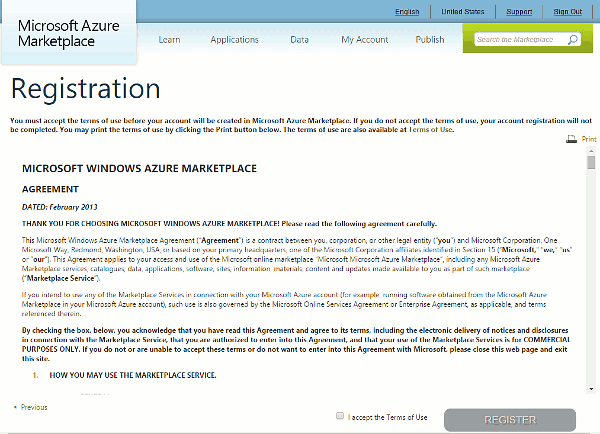 Check the "I accept the Terms of Use" box (if you agree to the terms) and click the "Register" button.
3. Sign up for a free key.
After registering, click here to sign up for a free search API key.
4. Copy your key.
Click here to open the page containing your personal key. Highlight the key using the mouse and press Ctrl + C to copy it into the Clipboard.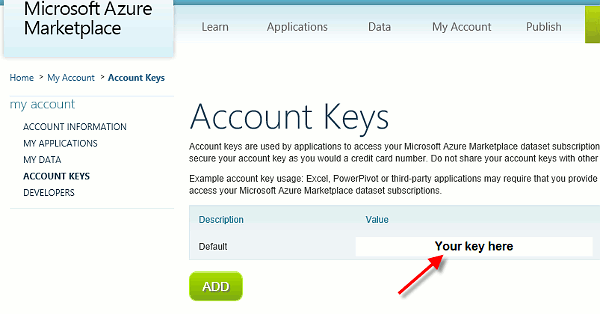 5. Insert your key into Movienizer.
You can use one of the following two methods to insert your key into Movienizer:
Edit the corresponding value in Windows Registry manually, using the Registry Editor.
Download a small .reg file (right-click the link and select "Save as"), open it with Notepad (right-click the downloaded file and select "Edit"), find this line: "BingAPI"="Your-Key-Here" - and replace Your-Key-Here with your key (it goes between the quotes). Save the file, then double-click to run it. Confirm adding information to the Registry.
Now start the program, select "Bing" as the search engine in the cover search window and enjoy downloading additional pictures.
There are also .reg files for Musicnizer and Booknizer.
Troubleshooting
If you have created and added your own key, but image search does not work, please check the following:
Did you switch to Bing in the image search window?
Have you signed up for search (the step 3 above)?
Have you entered your key into Windows Registry?
You can verify whether your key is really in use by logging in to Azure and selecting the "My data" menu item in your account:

If this menu is empty, you did not sign up for search (step 3). If it is not empty, but your number of transactions is unused, you did not enter your key into the program, or there was some problem (for example, only a part of the key was entered etc.).