Add DVD / Blu-ray Movies
This method is just a version of adding movies from files and folders, but unlike the latter it always works with individual movies. Alternatively, you can add your movies by title or by barcode.
Movienizer can keep track of movies on different media types, including DVD, Blu-ray, HD-DVD, VHS, etc. As most computers have DVD / Blu-ray devices, it is possible to insert discs with movies into such device and let the program detect technical details. This is exactly what the "From DVD/Blu-ray folders" option does (however, you will need to insert your discs manually).
Click the "Add movie" button on the toolbar:

The "Add movie" wizard will appear. In the "Select an option for adding movies" area, select "From DVD/Blu-ray folders" (1):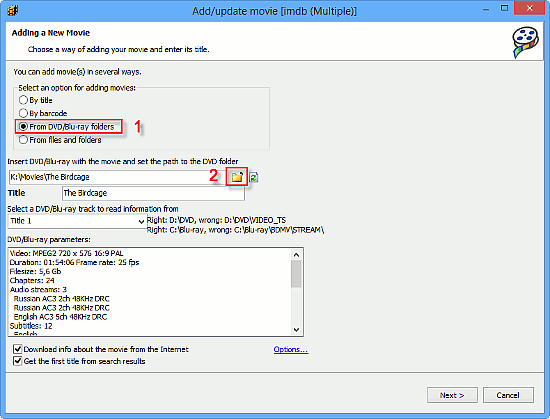 Insert your movie disc. Wait a couple of seconds for your device to recognize it, then click on the folder icon (2) and select the drive with the disc.
You can also select a folder on your hard drive containing a DVD / Blu-ray structure.
Technical details of your disc will be displayed in the "DVD/ Blu-ray parameters" area. Movienizer extracts information about the "main movie" on the disc. However, you can manually choose a different title from the "Select a DVD/Blu-ray track to read information from" dropdown list.
The program extracts the title from the corresponding field of your disc. You can correct the title manually or just remove it and enter a new one. This may help if you download information about the movie from the internet. If you add movie details manually, you can correct the title at a later point.
When you add movie barcodes, various technical details can be downloaded from the internet rather than recognized from the corresponding disc, so inserting discs is not necessary.