Add Movies From Files and Folders
With Movienizer you can easily create an illustrated catalog for your movies stored as video files on your computer or network. While it is possible to add such movies using their titles (this general method can be used with any type of movies, including ones that you do not own) and link the movies to the corresponding files manually, there is a more convenient option for video files. We will explore it in this article.
If you have movies on DVD/Blu-ray or other sorts of media, you can scan movie barcodes into Movienizer, and the program will automatically download necessary details. It is also possible to add DVD/Blu-rays individually, or add any movies using their titles.
To add movies from your video files, click on the "Add movie" button:

This opens the "Add movie" wizard. There are several methods of adding movies, we mentioned them previously. Select "From files and folders" (1).
On the right, a directory tree showing files and folders on your computer and on your network will be displayed (2). You can select entire folders or individual files. A box with a checkmark means that the folder / file is selected, an empty box means that the folder / file is not selected and will not be taken into account.
After selecting folders, click on the "Find videos" button under the list (3).
Movienizer scans the selected folders / files and populates the main area. It tries to guess movie titles using information from their filenames. Extracted titles are displayed in the "Title" column. If you see that some title is not quite correct, you can click on it and make necessary adjustments. This will help the program finding more relevant results, if you download information about your movies from the internet. Of course, you can also add necessary details manually.
Under the "Find videos" button, there is a "File scanner settings" link. A click on it will open the file scanner settings window: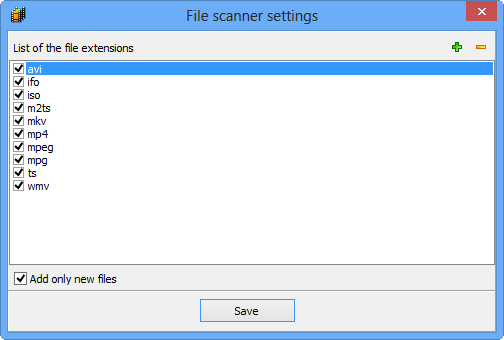 Here you can enable or disable scanning various file extensions, add new extensions or remove existing ones. The "Add only new files" option under the list of file extensions defines what the program should do when it finds a video file that is already available in your database. By default, such files are not added to the list. If you disable the option, all video files will be added to the list, regardless of whether they exist in your database or not.
After creating a list of videos to add, click "Next". Movienizer starts downloading information about your movies, or opens the "Edit info" window for you to enter movie details manually, if you disabled the "Download info about the movie from the internet" option.
Adding movies from video files has several advantages. First of all, Movienizer scans technical details of your videos and adds the information to the database. Further, links to the files are saved, too. Thus you can start playing movies directly from the program, using its built-in or an external video player. Movienizer is also capable of creating illustrated movie catalogs for some supported hardware players: Dune HD, WD TV, Google TV, Popcorn Hour A-400.
Additionally, you can use the Video File Renamer plugin to rename your video files easily, taking information from your Movienizer database.