Built-in Video Player
Movienizer can be used to organize your DVDs, Blu-rays, HD-DVDs, and other sorts of media. It is also possible to add movies from video files stored on your computer, NAS, or any other location available either locally (external HDDs) or on the network (shares on other computers or servers etc.).
With Movienizer you can easily sort and search such movies, create reports, download information about actors, and more. Among other things, the program offers two ways of playing videos directly from your catalog: using the built-in or an external video player (click on the link to learn more about the latter option).
The built-in player is a quite simple video player with a minimum set of features. However, it offers a convenient feature of making shots from your video files and saving them to the database. Thus you can easily create shots of your favorite scenes in the movie.
The built-in player depends on the codecs installed in your system. It is capable of playing any video file, if the required codec is installed. You can check this by playing the same video in Windows Media Player.
In order to play movies, Movienizer should contain links to the corresponding video files (if you add movies from video files, links are saved automatically, otherwise you can add them on the "Editions" tab). With DVD, Blu-ray and other removable media, the disc should be inserted. If your movies are stored on NAS or another network location, it must be available.
To start playing a movie, open its page and click on the "Play" button on the toolbar. If there are several video files linked to the same movie, you can click the arrow next to the Play button and select the file you want to play:

You can also find "Play" buttons on the page of the movie (depends on the active user interface and its settings):

A click on the Play button opens the built-in video player (if an external video player is started, or nothing happens, check your "Play options"):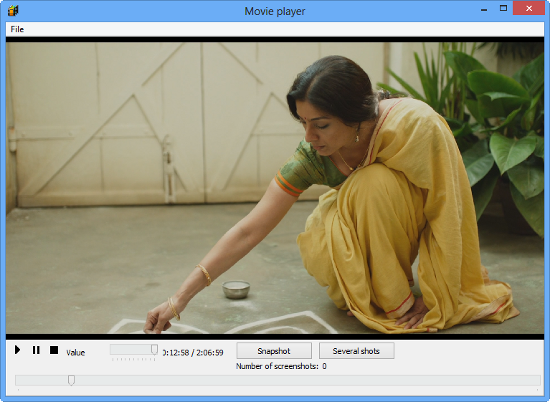 Using the built-in player, you can watch movies and save shots from them to your database.