Sorting Movies
With Movienizer you can easily organize your movies and TV series, collect information about actors and directors, including complete filmographies, find movies by certain properties or simply using a phrase from the title, create wish lists, and more. After adding movies into the program with one of the available methods (by title, by barcode, from DVD/Blu-ray, from files and folders), you can start applying different filters and sorting methods.
By default, the program shows the "Movies" tab in its left area: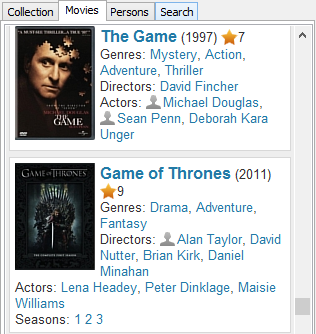 To apply different sorting methods to this list, use "Manage" - "Sort movie list by":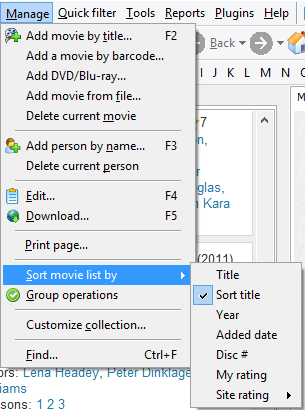 Here you can choose from several options: "Title" and "Sort title" (movies are sorted alphabetically, A - Z, "Sort title" does not take articles into account); "Year" will sort your movies by the release year; "Added date" will show all your movies in the order you added them, most recent first; "Disc#" can be useful for numbered DVDs and Blu-rays (the corresponding information can be entered on the "Editions" tab of the "Edit info" window of the movie); "My rating" and "Site rating" are discussed in more detail in this article.
These sorting methods also apply to filtered lists and reports.
More sorting options are available on the "Collection" tab.