Print Any Page
Movienizer offers an easy-to-use and flexible tool to export or print information about your movies. There are several preinstalled report templates available in the "Report" dropdown list, but you can also create your own templates in several clicks.
Furthermore, there is a feature that allows printing any page you see in the program.
Open the page you want to print and select "Manage" - "Print page":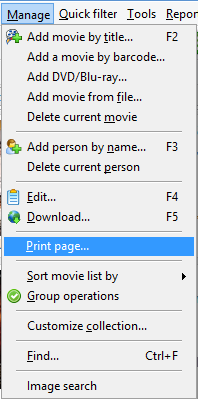 Alternatively, you can click the small arrow next to the printer button on the toolbar of the program and select "Print page":

This will open a page preview window: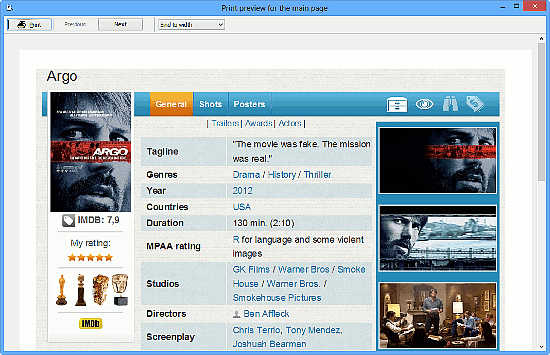 If everything looks good, click on the "Print" button to send the page to your printer.
This method has a peculiarity that should be taken into account. When printing, the program has to scale the image to fit the width of your actual paper sheet. Thus wide pages may be scaled to quite small images, rendering any text unreadable. In this situation, you can make the program's window smaller and refresh the page before starting to print it.