Import Your Movie Catalog From All My Movies
Movienizer includes several plugins that allow importing your movie collection from a different movie catalog program quite easily. As opposed to the "Import from text file" feature, everything is processed automatically, so you only need to choose the correct database files.
This article describes how you can import information about your movies from All My Movies (AMM) and use all the power of Movienizer without re-entering your data manually.
As you start Movienizer for the very first time, it detects if you have a program supported by its import plugins installed and displays a special window (see the second screenshot). If it does not, you can select "Plugins" - "Transfer data from other catalog programs":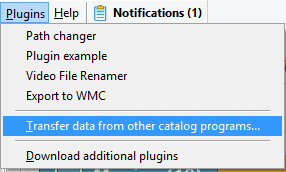 This opens a window where all import plugins are listed: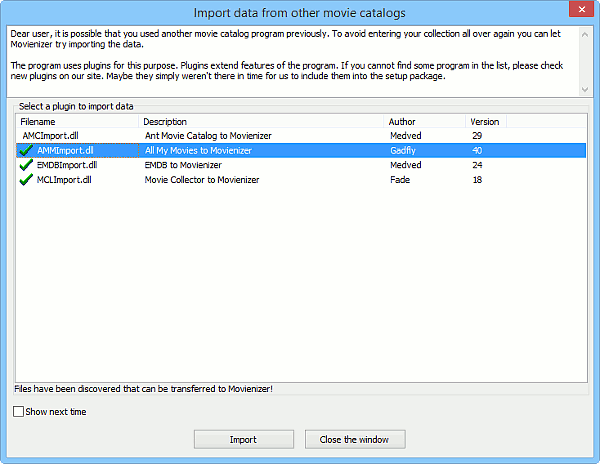 There are 4 columns: filename, description of the plugin, author, and version. You can find the required plugin by its description: "All My Movies to Movienizer".
Click the entry to select it, then click "Import" at the bottom of the window.
The "Show next time" option defines whether the program should show this window at startup. Once you have imported your collection, you may want to uncheck the box.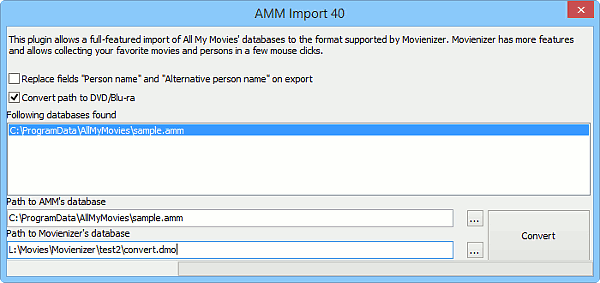 A click on the "Import" button in the previous window opens the AMM Import plugin itself. In most cases Movienizer will automatically detect your AMM database(s), displaying it (them) in the list. You can click on a database to select it (if you have only one AMM database, it is selected automatically).
If Movienizer does not detect your AMM database (which may happen if AMM is not installed, but you still have a file somewhere), click the "..." button next to the "Path to AMM's database" field, then browse and select your database file.
Movienizer suggests a path and a filename for your future Movienizer database as well. By default, no existing database is overwritten (a non-existing filename is suggested). To change this, edit the path / filename in the "Path to Movienizer's database" field, or click the "..." button next to the field to browse your folders.
When everything is ready, click the "Convert" button in the lower right corner. The plugin will import information from your AMM database into Movienizer. Depending on the size of your database, it may take some time.
Finally, the converted database is opened in Movienizer: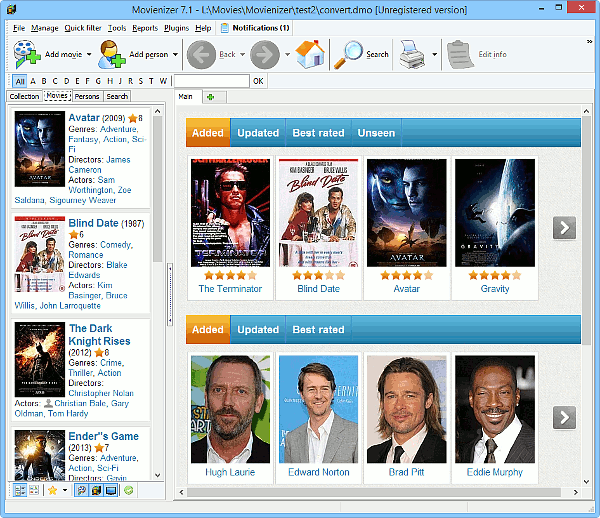 Now you can add information about further movies, download information about actors, apply different filters, create reports, and more.