Group Operations
Movies and TV series can be added into Movienizer one by one or in groups, the "Add movie" dialog supports both methods. When a movie is already in your collection, you can easily update information about it, change its status, enter additional details manually, use custom fields, and so on.
However, in certain situations you may need to change some information about a group of movies or persons at the same time. This is where Group Operations become helpful.
To enable Group Operations, select "Manage" - "Group Operations":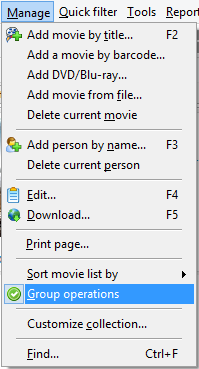 Alternatively, you can enable Group Operations using the button on the small toolbar at the bottom of the movie / persons list:

Now, an empty box will appear near each movie's title / person's name. Check this box to select the movie / person.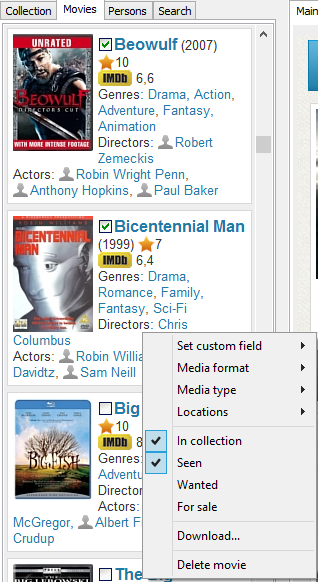 You can also select all movies / persons currently shown in the list. Use these buttons at the bottom of the list:

The box with a checkmark selects all items in the list, the empty box remove selection from all items.
Right-click on the list to open the menu that allows setting values for different fields, including custom fields and status.
Group Operations can be used in combination with quick filters and quick search, which allows easily selecting all movies with certain parameters (status, custom fields, media format, media type, location). The selected movies can further be used to create a report, a movie catalog for Dune / Popcorn / WD TV/ Google TV, etc. Plugins are also capable of taking into account selections.
With Group Operations, you can also re-download information about movies and persons.