Wish List
Movienizer helps you organize your collection of movies. You can easily add your DVD's, Blu-ray's, video files, scan barcodes, or simply add any movies by title.
On the other hand, Movienizer allows you to explore the world of movies. You can click on an actor and download his / her biography, photos, filmography. After this, you may click a movie in the newly loaded filmography and download information about the movie. Now, what if you find the details interesting and want to have such movie in your collection?
In Movienizer, there are four main statuses of a movie: "In collection", "Seen", "Wanted", and "For sale". We can set them in the "Edit info" window: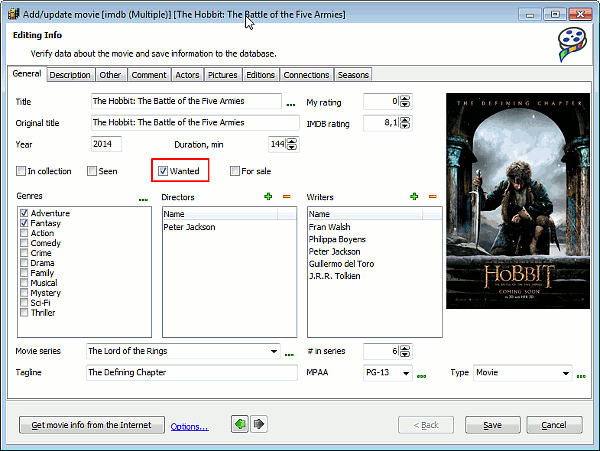 Let's set the "Wanted" flag.
Well, we do not even need to open the "Edit info" window. Just right-click on the movie page and select "Wanted" in the context menu: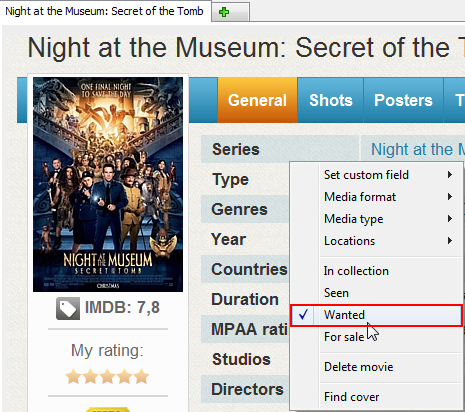 Furthermore, there are status icons on the right:

We can click them to set or clear the corresponding status. By default, the Breeze interface of Movienizer hides the "Wanted" and "For sale" icons (they are displayed only if the corresponding status is set), but you can change this behavior in the interface settings window.
Now, we have set the "Wanted" status for some new movies. We do not have the movies in our collection, so they do not appear in the main list, on the "Collection" tab, etc. But we can easily make Movienizer show our wish list using the "Quick filter" menu. Just click the "Show wanted" item: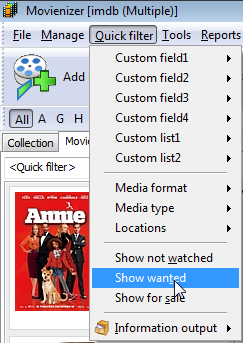 This is our wish list: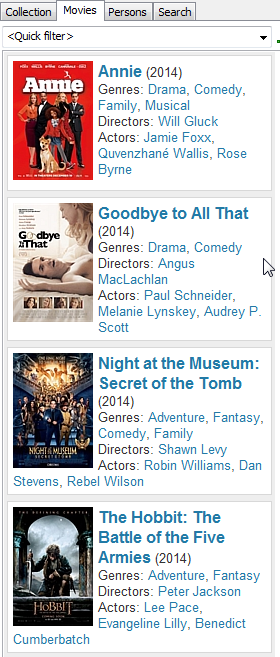 We can click any entry to see shots, a plot summary, cast and crew, and other details. Additionally, it is possible to export or print the wish list, using the "Reports" feature: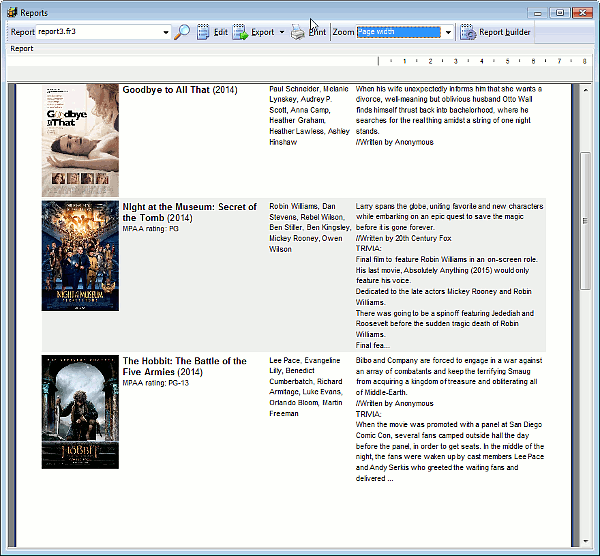 When you get a wanted movie, just set the "In collection" flag for it. Movienizer will automatically clear the "Wanted" flag (but you will be able to set it again, if necessary).
The "Wanted" status can also be used on the "Search" tab, on the "Collection" tab, in Extended filters, etc.